A Heartfelt Brand Refresh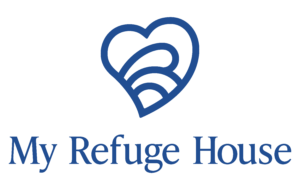 To help honor our 15th year, we are thrilled to unveil our new brand identity. The heart is an ancient symbol with an unknown origin. Universally familiar, it has grown to represent love and the center of human emotion. Ours was crafted as a reminder that we are bound together through compassion and clarity of purpose. The My Refuge House heart is emblematic of a state of mind that embraces all humankind. It represents the love we share with survivors as we help them find their voice, the love we extend to our donors and volunteers whose generosity fuels our work, and the love we nurture within ourselves as we passionately pursue our mission.

Hidden within the arched letterforms is a stylized representation of the beautiful land and rolling waves that surround My Refuge House. Each element is a subtle hint of our home on a hill; designed as a reminder of our purpose. Our rebranding reflects our growth, resilience, and, above all, the unwavering love that fuels our mission to stand as a light amidst the shadows of human trafficking and provide support with unyielding dedication.
Thank you to The Brand Movement for working with us and creating a brand to honor 15 years of heart-led work! We look forward to updating our visual identity on and off-line over the next month! Stay tuned!