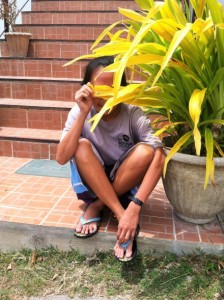 Here is the fourth in the mini-series sharing Rachel's blog….
For the second part of this blog series I would like to introduce you to the lovely girls who are in my college prep class. The pictures alone should tell you how hilarious and playful they are. They love to joke around and have a good time! They have gotten pretty excellent at having to hide their faces for cameras but these are some of my favorite creations. Leaves and bushes have definite coverage and the last one is just proving what a professional she is at being natural and anonymous at the same time. True talent!
These three have already graduated from high school and will begin college in August. They are bright, cheerful, and funny. Two of these girls are peer leaders in the shelter and receive a small stipend for being "mini staff" and taking on more responsibilities in the home. They are doing an excellent job and see a lot of me because I am also teaching a leadership class for our peer leaders.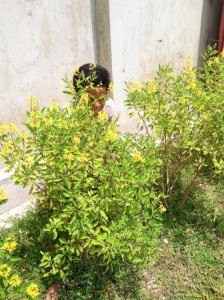 This is the first time I have been their teachers and they are becoming acquainted with my teaching style – which resembles a fish flopping around and gasping for breath on dry land. One of the main projects for their semester is a research paper to teach research skills, writing a thesis statement, forming outlines, and sentence structure. They have each picked topics which interest them and they include: LGBT rights in the Philippines, why lions are considered King of the Jungle, and why a rare flower only grows in specific parts of the world. I have been giving them short writing prompts to work on forming 1-2 page stories and they are fantastic. One writing prompt was "If you could change one thing in the world, what would it be and why?" Their answers included prostitution, street child, and government corruption. They knocked it out of the park. I really enjoy having them in class because they are working hard and enjoy learning what interests them – which is the focus for this class.
They are curious, determined, and nervous for college. We work through questions and struggles together and I am happy for the opportunity to know them on this level. Each girl is b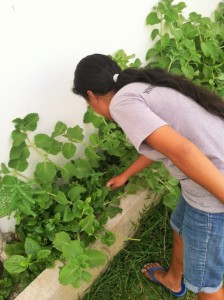 eautifully different and have a variety of goals. One wants to study criminology and work on behalf of trafficking victims, one wants to be a veterinarian, and the other wants to be an accountant. They have different talents, passions, and pursuits and they will achieve wonderful things.
They play the guitar, care for animals, and love Jesus. They also deeply love their families and will come into my office to tell me about their family visits and show me pictures they took of all their siblings. Their families are a major support system for them and they cherish family above all. I am excited to see them go to college and hear all they are learning, the friends they are meeting, and the new events they are experiencing. They are sweet, caring, and passionate and I love them.
https://myrefugehouse.org/wp-content/uploads/2016/07/mrh-logo-green-400-1-300x60.png
0
0
mrh_admin
https://myrefugehouse.org/wp-content/uploads/2016/07/mrh-logo-green-400-1-300x60.png
mrh_admin
2015-06-27 02:01:47
2015-06-27 02:01:47
Girls: Part II