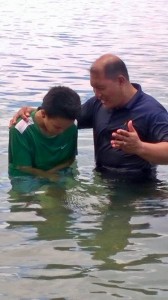 "Joy is what happens to us when we allow ourselves to recognize how good things really are." ~ Marianne Williamson
I began my journey getting to know My Refuge House a month ago. Since then, I have invited anyone I talk with to join me in getting to know the girls, the staff, and the mission.  Perhaps it is not too surprising, but the girls and their resilience are fueling this journey.  This was proven to me when I met them at the end of April.  We initially met over an all-you-can-eat rice and chicken dinner.  They taught me how to mix together soy sauce, vinegar, and calamansi lime juice.  They soon taught me how to say, "Busog"…it was the first of many times I said the Cebuano words meaning "I'm full" over the next week.
In fact, I was full most of the week…full in body and full in spirit.  We had an all day spiritual retreat on my first full day with all the staff and all the girls. Both the staff and the girls asked deeply profound and deeply personal questions…questions about why bad things happen to good people…questions I didn't how to articulate until maybe after my first year of seminary. It was immediately apparent that everyone knew the importance of incorporating this into their journey of understanding and restoration. Their active engaging, questioning, and seeking awed me.
On my last day with the girls of My Refuge House, we drove down the coast to a little beach, where four of the girls joined several other youth from their church in celebrating their "water baptism".  I sat in the front seat and basked in the laughter and chatter amongst the girls and staff in the back of the van.  A sweet and slightly sassy little voice floated clearly out of the chatter,
God created me and he said, "It. Is. Gooooood."
Everyone laughed.  It struck me in that moment that I had experienced a week immersed in joy and authenticity…yes, the girls are acutely aware that life has not always been good to them, and the staff carry the heaviness of the stories in their hearts…but they do this with a connection to joy and a passion for authenticity…in fact I would say they do this because of a connection to joy and a passion for authenticity.
Joy and authenticity infused the sacrament of baptism that morning.  I have witnessed many different types of baptisms, but nothing quite prepared me for this day.  It was a day of community and a day of rejoicing.  It was a day for young people who had obviously spent much time in discernment. They were ready to outwardly claim the Divine's Belovedness they had come to know.
Sarah's baptism moved me in a particular way.  I wondered to myself, "Why now?" She has lived with My Refuge House for more than three years. I didn't outright ask Sarah…maybe one day that will seem like an appropriate question for me to ask.  I don't know if I need to.  It's pretty obvious that her baptism is a part of her restoration and healing. Sarah has cultivated the place within her where joy and authenticity meet…the time was finally right for her to truly restore her newly discovered identity of Beloved and Gooooood.
Busog, Heather Bland – CEO | My Refuge House
https://myrefugehouse.org/wp-content/uploads/2016/07/mrh-logo-green-400-1-300x60.png
0
0
mrh_admin
https://myrefugehouse.org/wp-content/uploads/2016/07/mrh-logo-green-400-1-300x60.png
mrh_admin
2015-05-25 03:10:05
2015-05-25 03:10:05
Busog