Today's post comes from our dear friend and catalyst, Nannette Ricaforte. Nannette has been an integral part of My Refuge House from the time it was a dream, until now, and continues to offer her time and resources (she's an incredible photographer!) just about anytime we need her. Check out her photos here:  http://www.nannettericaforte.com/
————–
"Don't be an activist, be a solutionist."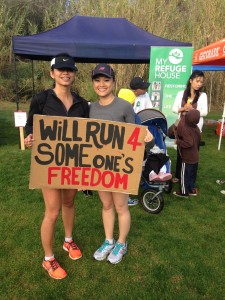 Those words have hounded me since I attended the Justice Conference last month. The Orpheum Theatre in Los Angeles was packed with people listening intently to Justin Dillon, founder and CEO of Made In A Free World, while I couldn't take notes fast enough.
Made In A Free World's mission is "empowering individuals, groups, and businesses with innovative solutions to end the system of slavery together." Justin Dillon spoke with zeal on being part of the solution in the injustice of slavery. He encouraged us to do something together, to build a world we want to live in, to preach solutions not problems.
Since then, I've asked myself how I could be included in the equation that resulted in a solution. It seemed as if the common theme at the Justice Conference was about taking initiative, not just to raise awareness of human trafficking, but in creating answers to eradicate it.
I worried that I wasn't doing enough with volunteering at My Refuge House, a safehouse where survivors of sexual exploitation and sex trafficking are provided protection, restoration, healing, and empowerment. I became anxious and questioned the purpose in my life if I've focused only on raising awareness of the injustices of modern slavery.
What does it mean to be part of a solution?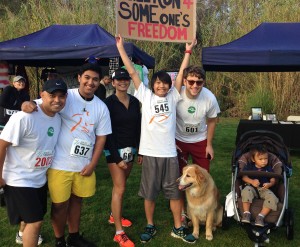 That question kept me up on many nights, wracking my brain for answers that refused to reveal themselves. You know those nights when doubtful thoughts play ping-pong in your brain causing unnecessary stress and anxiety.

"I can't afford airfare for the Philippines and work with the girls at My Refuge House so I'm not part of the solution!"
"I'm not a social worker, therefore, I'm not equipped to be part of the solution."
My favorite ping-pong thought of the night: "Who am I kidding? Without superpowers I can't be part of the solution."
Meanwhile, for the last two months my life revolved around organizing, coordinating, and co-leading the Race for Refuge 2014, where several teams ran a 5K, 10K, 15K or 20K, as part of the OC Missions Race Event. Our tagline was, "Will run for someone's freedom" with a sole mission of raising money for the girls living in My Refuge House.
Chill and fog cloaked the morning of the race but talking to team members about their reasons for running the race refueled my passion for the cause. Shivering in the chilly air, Juliana explained to me that this race would probably be the first and last time she'd run, but the thought of the enslaved girl kept her moving forward. It was because of "her" that she woke up at dawn to run a race after spending a sleepless night with her baby. You can read Juliana's blog post about her experience by clicking here.
Listening to Maegan's story reinvigorated my energy to run the race that morning.  Her beautiful eyes glowed with excitement, not only for running the race, but also for exceeding her fundraising goal. Bitten by the abolitionist bug after knowing about My Refuge House for only a month, Maegan spoke to her high school youth group in Hemet, California about human and sex trafficking. She discovered they knew little about the pervasiveness of the issues in the U.S., believing it only happened in other countries. Maegan's voice is being used mightily because her senior pastor has invited her to share more about it on their weekend services.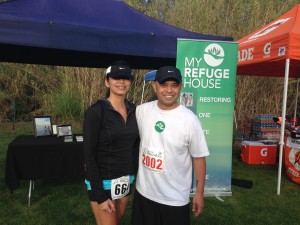 My longtime friend, Anh, expressed her amazement at the eagerness and willingness she received from people who donated to her fundraising page, giving her extra motivation for the run. It stirred her heart to do more for the 29.8 milion people enslaved in modern slavery today.
Along the racecourse, admiration and pride slowed my pace as I passed my friends who inspired me in their dedication. There were Russ and Ben, both dads each pushing a stroller with a child in tow. More power to them because I've done the same thing when my granddaughter was younger but you wouldn't find me pushing a stroller at a race. I could barely get my own butt through those miles let alone a baby in a stroller!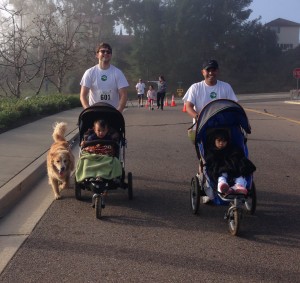 I slapped high-fives to our youngest team members, teen boys Caleb and Jessiah, who ran their first 5K knowing it was for a worthy cause. Kudos to them for waking up early on a Saturday to join us for the race!
Crystal, the director of My Refuge House, claimed running wasn't her thing but she could have fooled me as she ran ahead leaving me behind. Way behind! But she did it and my heart burst with pride!
Toward the last half mile, I cheered on Karlee, Tina, Lauren, Carrie, and the rest of the team as they logged in the miles for survivors of the sex trade. If I had pom-poms I would've busted out my old cheers for them!
As we crossed the finish line and converged for a group picture the answer to my plaguing question crystallized in front of my eyes. My race teammates embodied what Justin Dillon meant about being a "solutionist." Each participant, plus their unique story, created an answer. My vocation has always been to stir the hearts of those around me and rattle their psyche for the suffering of those victims caught in the web of human trafficking.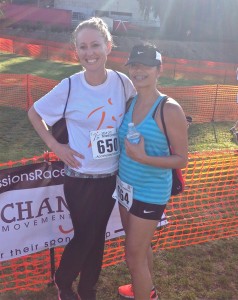 Being part of the solution in the fight against human trafficking and slavery isn't solely about raising awareness, but to engage with others who share the same fervor, determination, purpose and intention in attaining an ultimate solution. It's about being advocates for a cause bigger than ourselves sans apathy and complacency.
Will you be part of the solution?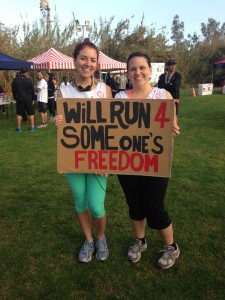 https://myrefugehouse.org/wp-content/uploads/2023/09/mrh_header-1030x241.png
0
0
Crystal Sprague
https://myrefugehouse.org/wp-content/uploads/2023/09/mrh_header-1030x241.png
Crystal Sprague
2014-03-24 21:10:34
2014-03-24 21:10:34
Nanner's Runners –By Nannette Ricaforte